Is your pet a Pet-sioner?
Did you know that we consider pets to be seniors from around 7-8 years old for cats and small dogs, and even earlier for large dogs?
Our pets show us small signs of ageing every day – weight gain, reduced energy and exercise levels, losing interest in games and toys, stiffness on cold mornings or after exercise, not wanting to jump, growth of lumps and bumps, changes in appetite and thirst, changes in skin and coat condition….
Small signs such as these may be early indicators of age related medical conditions. But don't worry, there are many things we can do to help our pets be happy and comfortable as they grow older. It may be as simple as changing the diet and exercise routine!
It is very important for our older pets to have regular health checks with their vet to assess and monitor any changes, even if your pet seems generally healthy.
Victoria Point Vet Hospital is pleased to offer a Senior health screening program to all our Pet-sioners.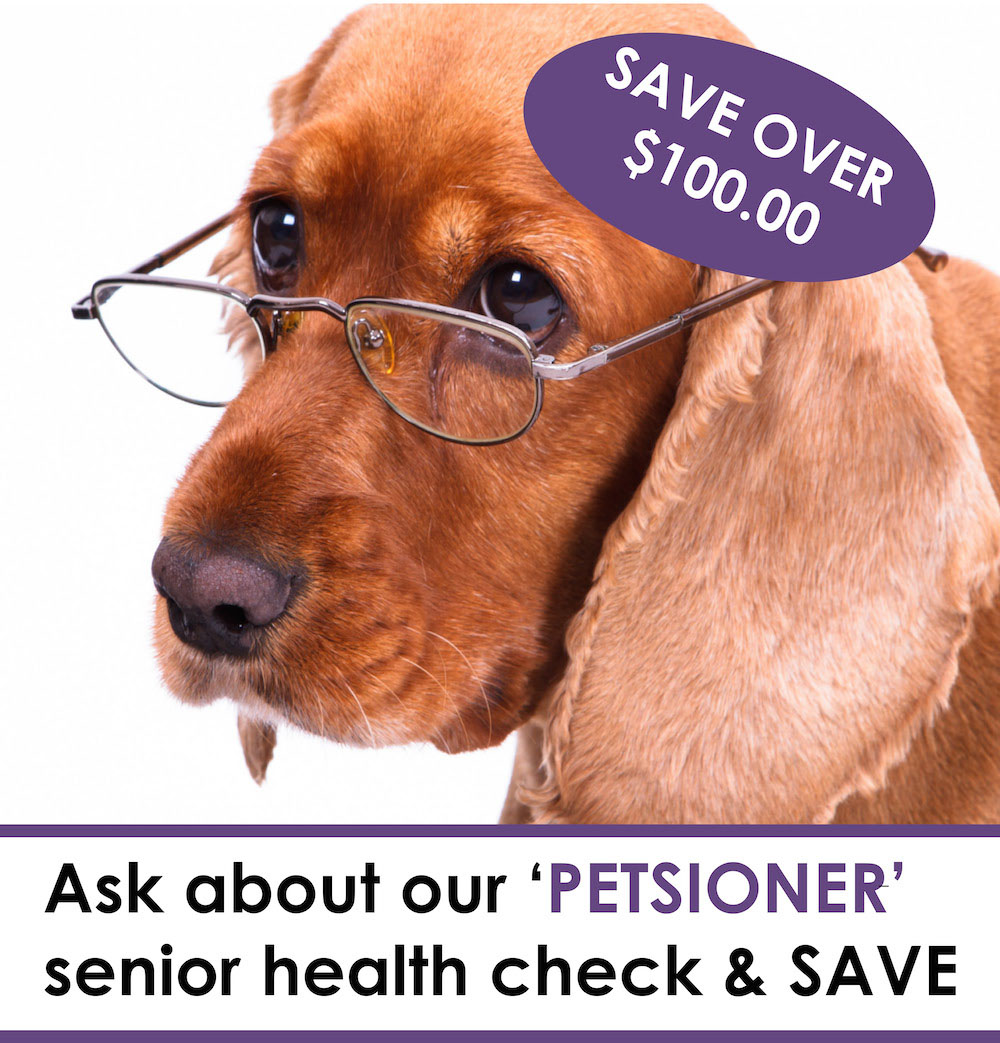 During your pet's Vet Consult, we will carry out a full physical exam, and assess your pet's weight, mobility and joint health, and dental health.   We will also take blood and urine samples from your pet. 
Here at VPVH we have state of the art pathology equipment which allows us to have the results of your pet's diagnostic tests as quickly as possible.   Our senior Screening Profile blood test includes testing for illnesses such as Diabetes, Thyroid Disease, and Liver and Kidney Disease. 
Just like people, early detection and management of any illness or problem can add many healthier, happier years to your pet's life.  
Our Pet-sioner Package for cats and dogs includes: 
A comprehensive physical examination
Checks for lumps, bumps and skin changes.
Dental assessment and plan.
Preventative treatment schedule.
Body condition assessment with recommendations.
Arthritis evaluation and plan.
Senior Profile test
Screens for common diseases such as diabetes, hyper- or hypo- thyroidism.
Analysis of biochemical function, particularly, liver and kidneys.
Tests for haematological health – hydration, immunity status.
Includes urinalysis to assess renal function.
All for a saving of over $100!
Save more than just money! Call today for your appointment – (07) 3207 8023
Sign up to our newsletter for all the latest pet related news both locally and Australia wide.
Have a Question? We Can Help